Check-up and Clean at Donvale Dental Centre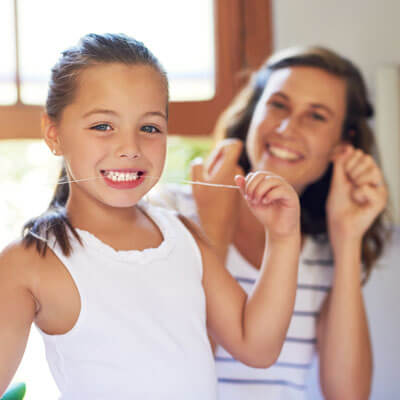 Most dental health problems are preventable. By scheduling six monthly check-ups and cleans, we can help you keep your smile healthy and lower the risk of tooth decay and gum disease.
What to Expect
A typical check-up is about 45-minutes long. During your appointment we'll complete a thorough evaluation of your teeth and gum tissues. About once per year (or as needed) we will also take a set of cavity screening X-rays, called 'bitewings', to evaluate spaces that aren't visible during your visual exam. All of your existing restorations will also be checked and an oral cancer screening will be performed.
Detailed charting allows us to pinpoint changes from one visit to the next. The sooner any problems are intercepted, the more conservative your treatment will be. Should you require any therapy, we'll map out a treatment plan to outline the prescribed care and appointments involved.
During your clean, we'll remove hard and soft deposits, then polish away any surface stains. Finally, a fluoride treatment is applied to help strengthen your enamel and make it more resistant to cavity-causing bacteria.
Safety Standards
Our practice has always had a high standard of sterilisation and infection-control protocols. Now in the age of COVID-19, our rigorous processes are more detailed than ever. In addition to consistently wiping down common surfaces and utilising hospital grade sterilisation methods, we also limit the number of visitors in our reception area and record temperatures on each patient when they arrive for their appointment.
How Often Should I Book a Scale and Clean?
People with relatively healthy teeth and gums benefit from a check-up about twice per year. If you have a history of gum disease or heavy buildup, it may be better to book an appointment as frequently as 3-4 times per year.
Periodontal disease is the leading cause of adult tooth loss. Thankfully, it's preventable. Recognising the signs allows for early interception while gingivitis symptoms are still reversible. But left untreated, periodontitis will lead to bone loss, tissue detachment and problems like

Tooth mobility
Gum recession
Halitosis
Heavy tartar buildup
Bleeding gums
Aggressive gum disease requires more thorough, detailed cleans than routine preventative visits. If you require a series of deep cleans (scalings) we will review the process with you. Adapting your home hygiene routine will reduce the chance of relapse and unnecessary tooth loss.
The health of your smile is closely linked to your overall wellness. Oral bacteria found inside of dental plaque can spread through the bloodstream and increase inflammation throughout your body. Recent research shows us that active dental infections like gum disease can raise your chances of medical complications from diabetes, cardiovascular disease, pneumonia, infertility and several other medical conditions.
Through routine preventative care and a dedicated oral hygiene plan, you can keep your smile healthy and reduce the amount of bacterial spread inside of your body.

Check-up and Clean in Donvale, Mitcham, Doncaster VIC | 03 8821 4688