Dental Implants at Donvale Dental Centre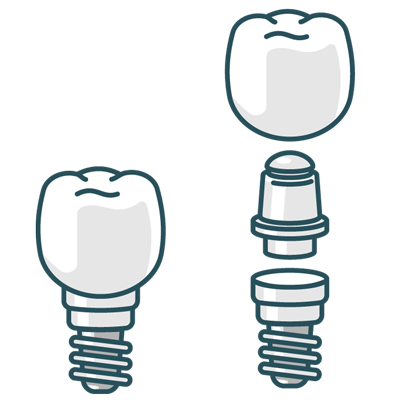 Today's dental implant designs look and function like normal teeth. When you smile, no one should be able to tell the difference.
Best Alternative for Missing Teeth
Dental implants are the only restoration designed to mimic the anatomy of a natural tooth structure. Since they stand independently of other teeth, implants are non-invasive to your smile and a more conservative option than other popular tooth replacements. There's no need to cut into healthy tooth structure.
With the proper maintenance, your implant (the 'root' portion of the replacement tooth) can last an entire lifetime. Custom restorations placed on top of your implant have a typical lifespan of 10-15 years. Be sure to keep up with your six-monthly scale and cleans, daily brushing and flossing.
Affordable Treatments
The lifespan of today's implants makes them the most cost-effective investment for replacing missing teeth. We offer some of the most affordable implant prices in the area. The competitive pricing and long-term results make implants the smartest choice when it comes to restoring your smile, especially since they don't have to be replaced as frequently as bridges or dentures.
What is a Dental Implant?
Implants are made from a biocompatible material called titanium and shaped similar to a screw, with a ribbed surface that attracts new bone growth. When placed into the missing tooth space, your body naturally integrates with the titanium surface to permanently fuse the implant with your bone. As a result, implants become a fixed solution that mimics anatomical teeth.
Since the implant is only the 'root' portion of your replacement tooth, you'll also need a restoration on top of it. Depending on how many teeth are missing, you can opt for a
Single-implant porcelain crown
Bridge supported by a pair of implants
Implant-retained overdenture
Dental implants require careful, thought-out planning and preparation. The typical implant case is spaced out across 4-5 visits over the span of 3-6 months, depending on the individual.
The initial process begins with a consultation, impressions and a set of X-rays. We'll need all of this information to determine if you qualify. After all of the data is collected, we'll work with you to decide whether implants are suitable for your situation. If they are and you decide to move forward with treatment, we'll schedule the next appropriate steps.
Installing your implants usually only requires one visit but the integration with your mouth can take a few months before they're stable enough to support a restoration.
Each of our patients will receive an itemised treatment plan that outlines the visits, cost and timeline involved for their particular case.
Implants rely on a specific quality and density of bone for support. Our implant candidates receive a 3D CT scan that allows us to assess their oral bone anatomy and surrounding structures to ensure they qualify.
A thorough medical review is also required. Since specific types of health problems may contraindicate implant treatment, we will want to screen for those scenarios prior to initiating therapy. Gum disease or blood thinners are just a couple of examples
If you are not a candidate for dental implants, we'll discuss other options that may be available to help you replace your missing teeth.
Best Alternative to a Missing Tooth
Are dental implants Donvale right for you? Request a consultation and screening today to find out if you qualify for this permanent tooth replacement.
CONTACT US

Dental Implants in Donvale, Mitcham, Doncaster VIC | 03 8821 4688