Meet Dr. Mina Habib (Dentist)
A dentist with a difference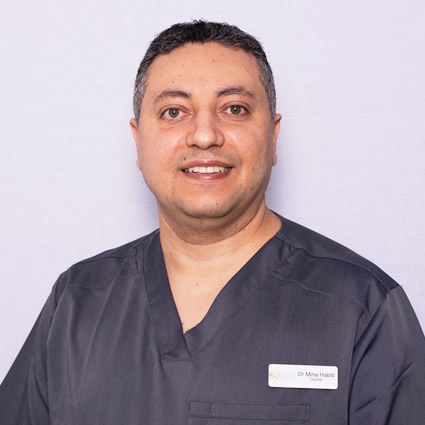 As a teenager, Mina experienced various dental problems. He gained an understanding of the importance of good oral hygiene. Mina wanted to help others as he was assisted, so he decided to become a dentist.
Dental Education and Certification
Mina completed his Bachelor of Dental Surgery at Cairo University in 2003. After immigrating to Australia, he gained a Graduate Certificate in Dentistry from Latrobe University in 2008. Mina is an accredited member of the Australian Dental Association. He's owned Donvale Dental Centre since 2018.
To stay abreast of the latest in dentistry, Mina regularly takes postgraduate courses. He's taken ones on the following:
Our Philosophy of Care
Mina prefers to treat every one of his patients with the same care and kindness usually reserved for family. He finds it fulling to help nervous patients overcome their fear of dentistry. "My patients are like family!"
Whether a patient is in pain and needs relief or is looking to enhance their smile, Mina finds it rewarding to provide effective care.
EXPLORE OUR SERVICES
Outside the Practice
In his spare time, Mina enjoys playing soccer and tennis with friends. He also loves chess.
Contact us today to schedule an appointment with Mina!

Dr. Mina Habib (Dentist) | 03 8821 4688