ClearCorrect at Donvale Dental Centre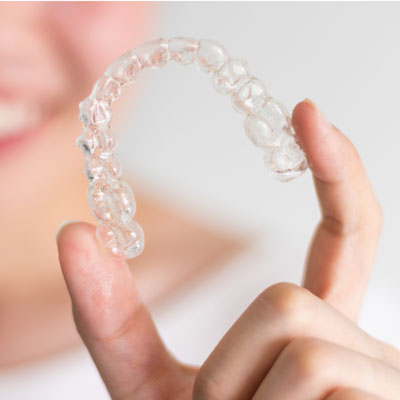 Looking to enjoy straighter, properly-aligned teeth without having to wear metal braces? ClearCorrect aligners are translucent, removable orthodontic trays that eliminate the need for brackets and wires.
Depending on the alignment of your teeth, most people complete their ClearCorrect treatment in anywhere between 6-18 months.
How Clear Aligners Work
Each set of ClearCorrect trays gently nudges your bite into the desired alignment. And since you change the trays out at home, there are fewer (and shorter) appointments required. Each set is worn for about 2-3 weeks. Just remove them when it's time to eat, brush or floss!
ClearCorrect is made of BPA-free, translucent material that blends in with your smile. Most people will never be able to see them. Their formfitting design keeps them snuggly wrapped around your teeth throughout the day.
ClearCorrect makes it easy to enjoy all of the foods you love. Since there are no dietary restrictions, you can eat whatever you like. Simply remove your trays at mealtime and then brush and floss before you put them back into your mouth.
Since there are no wires or brackets to clean around, your daily oral hygiene routine won't change much. Just take your aligners out to brush and floss, then use lukewarm tap water and a soft toothbrush to clean out the inside of your trays. If you start to notice buildup, you can soak your aligner in an effervescent denture cleanser.
Best of all, ClearCorrect is great for adults with busy lifestyles. We provide several sets of aligners at each check-in and you change them out as directed. A short visit every 2-3 months is all you'll need.
Can I Take the Trays Out of My Mouth?
Your aligners are meant to be worn for about 22 hours per day. Only remove them if you're eating, drinking anything other than water or cleaning your mouth. Otherwise, you should wear them consistently (even when you're sleeping). Always wear them as directed to ensure treatment progresses smoothly. Let us know if one of your trays is lost or misplaced.
Am I a Candidate for Clear Braces?
Removable orthodontic systems like ClearCorrect are ideal for adults and teens with mild to moderate crowding or tooth misalignment. We'll want to briefly evaluate your teeth first, to ensure that you qualify. If you have active tooth decay, gum disease or severe overcrowding, ClearCorrect may not be suitable.
ClearCorrect can replace approximately 50% of traditional braces cases. They're a wonderful alternative for our patients who don't want to wear fixed appliances. Your consultation appointment will allow us to determine if you are a candidate.
Enjoy month-to-month financing that fits your budget. Enjoy low payments and a gorgeous smile. With ClearCorrect and straighter teeth, you can lower your risk of dental problems including tooth decay and gum disease. They're a smart investment in your oral health.
Schedule a Consultation Today
We offer removable, translucent teeth straightening for teens and adults of all ages. For ClearCorrect Donvale contact Donvale Dental Centre today!
CONTACT US

ClearCorrect in Donvale, Mitcham, Doncaster VIC | 03 8821 4688