Veneers at Donvale Dental Centre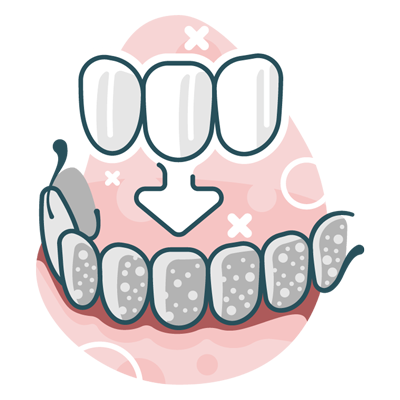 Custom dental veneers are an excellent way to enhance the shape, size and colour of your natural teeth. These cosmetic restorations are bonded to the front of the visible teeth in your smile zone' to mask any discrepancies or surface flaws behind them.
Ideal candidates have healthy teeth and gums, as a stable foundation is required to support dental veneers. You may want to consider them if you have specific concerns related to
Uneven or mildly chipped enamel
Deep stains or discoloration
Slight gaps between teeth
Irregular tooth shape
Mild crowding or misalignment
Our Dental Veneers are Made in Australia
To ensure optimal quality and integrity, each of our porcelain veneers are custom-made by an Australian ceramist. None of our lab work is sent overseas.
Traditional porcelain veneers are like a fine piece of artwork. The planning and placement process involve particular measures to ensure accuracy and best aesthetics. Here's what you can typically expect over the course of 2-4 visits.
This
exploratory visit
(which can be combined with any
routine check-up
) determines if you are a candidate for the dental veneer process. We'll answer any basic questions and ensure your smile is healthy enough for veneers. If you qualify and want to take the next steps, we'll take a set of impressions of your teeth.
Step 2: Mock-Up

You'll return to our office to view a mock-up of your proposed dental veneer design. The temporary veneers give you a chance to assess the shape and colour of what's possible with a smile makeover. This step ensures that our patients know what to expect before the treatment even starts.
Step 3: Prep Visit

We prep each of the teeth receiving a veneer, then take an impression of your overall bite. The moulds are sent to Australian lab, where a ceramist handcrafts each veneer to our specifications.
Step 4: Final Placement

About 10-14 days later, you'll return to our office for the final fitting. Each veneer is permanently bonded to the front of its respective tooth. You walk out the door with an entirely new smile.
If you have one or two teeth that require immediate attention, a same-day composite veneer may be appropriate. These bonded restorations are shaped and applied by hand here in our office.
When it comes to cosmetic dentistry, each detail matters. Our dentists wear high magnification dental loupes in order to perform each restorative procedure with impeccable accuracy.
Some individuals may not be suitable for dental veneers. If that's the case, we'll present other viable alternatives – such as porcelain crowns or implants – to help you achieve desirable results. Similarly, our patients who are heavy teeth grinders may find that a nightguard is essential to prevent any damage to their cosmetic investment.
With proper care and maintenance, dental veneers last an average of 15 years.
Smile Makeover Consultations
Dreaming of a gorgeous smile? Find out if dental veneers Donvale are right for you. Request a consultation today!
CONTACT US

Veneers in Donvale, Mitcham, Doncaster VIC | 03 8821 4688